Southeast Academy offers an accredited online high school for all 50 states!
Fill out a simple registration form today for our accredited online high school! The $125 family registration fee is due with your registration form. You can either pay the family registration fee online or call in your payment information. The family registration fee covers any other students in any of our programs. After the registration fee, your first tuition payment (covered below) is due before the student start date. First, read the remainder of this page, then fill out the simple "New Student Registration" form and pay the family registration fee. A Southeast Academy academic counselor will contact you, so the best customized educational plan can be developed for your student.
Southeast Academy uses an award-winning internet-based structure for its accredited online high school. It has over 50,000 multimedia features. The curriculum presents a Christian worldview. Southeast Academy's structure prepares students for today's college course procedures. High school work is flexible, because students can complete their schoolwork from anywhere with broadband access. Southeast Academy's Elite Service can reduce parent involvement to the level that works best for the family. There are also digital tutors throughout the curriculum, so students can get accessible help. The accredited online high school program includes six subjects, annual online achievement testing, academic adviser support, human teacher support via the built-in message center and email.  Many other benefits. All for $237 per month. You can use either the quarterly, semester, or annual payment option for a lower cost!
Students work at their own pace!
Students learn at different rates of speed depending on the subject or concept. For that reason, students need more or less time time for some areas than other students. Each student is guided through the lessons at their own pace, so it gives them the chance to master concepts at their ability before moving on to more challenging lessons. Most importantly, this allows students more time when needed. It also allows them to move quickly when they have mastered a concept. Students finish lessons by completing various questions, activities, and quizzes. There are approximately 130 lessons per two-semester subject. High school students use our Elite program to receive extra academic assistance from teachers at Southeast Academy. Teachers also handle the subjective scoring where answers cannot be automatically scored.
SEA Advantages:
Graduates will have a high school transcript and diploma from an accredited school. SEA's high school has full accreditation status with AdvancEd and the Southern Association of Colleges and Schools Council on Accreditation and School Improvement (SACS CASI). This regional accreditation is the same one used by universities. Besides that, our structure prepares students for most colleges. 

A course projection or academic plan for graduation is provided at the time of enrollment to clarify student requirements.

There are four different courses of study to meet student needs. Honors, college prep, general, and vocational. Furthermore, there is no extra charge for our Honors Program! A SEA academic adviser can guide you to the best choice.

High school students have a college entrance school number. It is used for college entrance testing, applications and financial aid.

Students can take our annual standardized achievement testing at home.
Accredited Online High School Curriculum Includes:
Six courses are included in the low high school tuition.

The student's home page has an efficient built in lesson plan, so students keep on track.

Instant computerized scoring is provided for a large percentage of student work, therefore it gives immediate answer reinforcement.

Teacher scoring is provided for subjective answers that cannot be automatically scored.

Grades and progress are viewable online by both the student and parents.

A large number of electives are also available for a reasonable cost if the student takes more than six courses.
Financial Requirements:
The $125 family registration fee is due with your registration form and is non-refundable. You pay the family registration fee online on the 2nd screen of the registration form. You can also call in your payment information as an option. The family registration fee covers any other students in any of our programs. Your first tuition payment will be due as outlined on the Financial Enrollment Agreement that will be sent to you. Typically, your first tuition payment is due before school work begins. There is further savings if you choose a tuition payment plan with less payments. 
Tuition Rates
Accredited Online High School Elite Service Program:
Monthly payment option (10x$250).
Quarterly payment option (4x$600).
Semester payment option (2x$1160).
Annual $2300.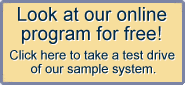 Additional Resources:
Frequently Asked Questions.
Graduation Requirements.
Credits: Transfer Credits, Credits Outside SEA, College Prep.
Graduation.
Required Physical Science, Biology, Chemistry, and Physics Lab Kits.
Scope and Sequence:
The samples below are in PDF format. Most browsers will automatically display the file in a new tab when clicked. However, some browsers will just download the file where you will need to go to your download folder to open it.
Computer Requirements:
It is highly recommended to use a browser with a desktop or laptop computer. Also, access to the internet. Typical wired and wifi broadband will work for internet requirements. Some satellite internet providers may not work due to download size restrictions or download speed, so check with us. Our system will work on both PC and Mac browsers. There are some limitations with tablets, so read our Tablet Info.
We also recommend taking steps for protecting your computer and student while online.